Abbkine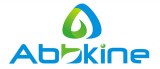 Abbkine Scientific Co., Ltd. was founded by a number of scientists and marketing experts in the field of life science in California, USA in 2012. They aim to provide innovative, high quality assay kits, recombinant proteins, antibodies and other research tools to accelerate life science fundamental research, drug discovery, etc.

Their mission is to help make research possible by supplying scientists worldwide with the basic research tools necessary for advancing human and animal health.

Abbkine started featured and exclusive products from protein detection tools, and devoted to developing and providing the most innovative solutions for global customers covering all kinds of antibodies, biochemicals, proteins and assay kits.
Full portfolio of epitope antibodies and internal control antibodies with custom conjugates;

Full portfolio of phospho-specific and featured methylation-specific antibodies with small size;

Top sale secondary antibodies with IFKine series for IF and IPkine for IP-WB analysis;

Full portfolio of protein purification tools with high quality and competitive price;

Top sale recombinant cytokines and growth factors;

More Cell function analysis kits, ELISA kits and cell tracking reagents

Search result : 57979 product found
Refine your search :
Unconjugated

33812

HRP

167

Cy3

19

FITC

19

Agarose

18

Magnetic beads

18

AbFluor™ 350

15

AbFluor™ 405

15

AbFluor™ 488

15

AbFluor™ 555

15

AbFluor™ 594

15

AbFluor™ 647

15

AbFluor™ 680

15

Cy5

15

Biotin

13

DyLight 488

8

DyLight 549

8

DyLight 594

8

DyLight 649

8

DyLight 405

6

AP

4

DyLight 350

4

DyLight 680

4

DyLight 800

4
human

45229

mouse

28935

rat

20757

monkey

1417

rabbit

126

chicken

111

dog

75

sheep

66

hamster

57

yeast

51

insect

48

all species

37

goat

34

plant

30

cow

29

pig

28

zebrafish

24

swine

20

virus

6

guinea pig

3

horse

3
rabbit

32407

mouse

1368

goat

79

horse

22

human

18

rat

7

chicken

3

guinea pig

3
Primary antibody

33701

ELISA/ELISPOT

22942

kit

461

Protein/peptide

393

Biochemicals

166

Chromatography

151

Secondary antibody

108

Control isotype

33

Biological fluids

24
ELISA

54262

WB

29185

IHC

15442

IF

6629

IP

315

ICC

120

FC

78
Polyclonal

32503

Monoclonal

440

1D7

23

11D5

22

14D2

22

1B10

22

2D5

22

4F6

22

5C3

22

1C7

20

2D10

20

3G6

20

14Y2

17

15T1

17

2B5

17

3G5

17

7B2

17

4C9

10

2C6

9

3D3

9

5G11

9

7F9

8

10T3

6

11G3

6

11T3

6

12H5

6

12T4

6

14D4

6

14D8

6

16T2

6

1E8

6

1E9

6

1H1

6

2A8

6

2D9

6

3T3

6

4A12

6

4G11

6

4H2

6

5A11

6

5D2

6

5F1

6

5H10

6

6B11

6

6D4

6

6F8

6

8B5

6

8E5

6

8T2

6

9A10

6

9D1

6

9D3

6

9T10

6

9Y5

6

9Y6

6

2C10

5

2H3

5

8F6

5

9B5

5

3B12

4

10D6

3

10D8

3

10E5

3

10H2

3

12E8

3

13F8

3

14E1

3

15F4

3

1A5

3

1A8

3

1B2

3

1B7

3

1C11

3

1C2

3

1D1

3

1D9

3

1E1

3

1E10

3

1E11

3

1E6

3

1G1

3

1G7

3

1H2

3

1H4

3

2A11

3

2B1

3

2B3

3

2C3

3

2E11

3

2E7

3

2F5

3

2F9

3

2G1

3

2G11

3

3B5

3

3B9

3

3C1

3

3C2

3

3C6

3

3D6

3