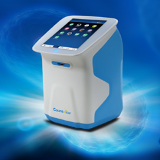 Cell analyzers
We offer a full range of automated white light and fluorescence cell analyzers and compatible slides for up to 5 analysis.
Our white-light cell analyzers can determine not only the cell concentration and viability but also the mean diameter and circularity of the cells. It is also possible to visualize the range of diameters and the aggregation of cells on histograms. These cell analyzers are based on the principle of trypan blue staining.
Our fluorescence cell analyzer is a cell analysis platform based on image acquisition. Its 4 excitation lights, its maximum combination of 13 fluorescent channels, allow it to visualize any dye whatever its wavelength. The patented fixed focus avoids manual errors and ensures the stability of the fluorescent signal. Users just have to click a button to get results with preloaded protocols. The customization function as well as several fluorescent channels provide a complete solution for the cell fluorescence experiment. The all-in-one design with FCS-type data analysis brings the user a new experience.