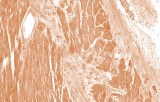 Extemporaneous immunohistochemistry (IHC)
The extemporaneous examination consists in performing one or more histological section (s) during an intervention in order to guide the surgical procedure as well as possible.
Many publications have indicated that receiving lab results in "ideally less than 20 minutes" is highly desirable for a variety of intraoperative surgeries (eg sentinel lymph node assessments, breast, lung, brain, and thyroid cancers). These rapid test results give physicians more information about their patients status at the time of surgery and thereby are anticipated to improve medical outcomes. Intraoperative tests performed by IHC can be a highly valuable tool but can only be practical if the entire IHC procedure can be completed in less than 20 minutes (including cutting tissue). Conventional IHC processes require hours to complete and are, therefore, impractical for intraoperative applications. The standard of practice today is to utilize hematoxylin and eosin (H&E) staining during intraoperative surgery. With few exceptions, physicians can only make surgical decisions based solely upon the morphologies observed from the H&E stain results. As traditional central laboratory IHC results become available days later, a patient with a false-negative may be required to return for additional surgeries with the corresponding ramifications of cost and inconvenience for the patient and medical providers.
We propose a range of primary antibodies directly coupled to an HRP polymer to achieve rapid IHC in less than 10 minutes without having to use a secondary antibody.
Number of tests estimated with ~100 μl / Tissue :
-005 = 50 tests
-010 = 100 tests
-015 = 150 tests
-030 = 300 tests