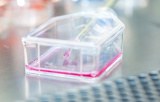 Extracellular matrix (ECM) proteins
Extracellular matrix (ECM) is a set of extracellular molecules secreted by cells that provide structural and biochemical support to surrounding cells. The composition of the extracellular matrix is ​​different depending on the cells. They play an important role in cell adhesion, inter-cell communication and differentiation.
2D or monolayer cell culture often uses extracellular matrix proteins to mimic the natural environment of adherent cells. The plastic support (bottle, petri dish or plate) is covered (coated) with a protein solution to allow better adhesion, better growth and better differentiation of the cells. This is called physiological 2D culture or 2.5D culture.
The most used extracellular matrix proteins are collagen, fibronectin, laminin and vitronectin. The choice of the coating to be used depends on the cells to be cultured and therefore the composition of the extracellular matrix in vivo for these cells.
We also offer supports coated with specific extracellular matrices for cancer cells, stem cells or even cardiomyocytes.