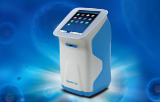 Fluorescent cell analyzers
Countstar® Rigel is an image-based cell analysis platform. 4 excitation lights, maximum 13 fluorescent channel combination, support any dye of different wavelength. Patented fixed focus, avoids manual error and makes sure the stability of fluorescent signal. Users only need to click 1 button to get result through pre-loaded protocols. Customization function together with multiple fluorescent channel provide a whole solution for cell fluorescent experiment. All-in-one design with FCS-like data analyze, bring user a new experience of experiment.
The innovative Countstar® Rigel makes the analytical force of cell fluorescent assays much accessible with its handy all-in-one design and its affordability.
Provides both pictures and analytical results, Countstar® Rigel enables your data be witnessed by image proof. One bright field illumination joint with 4 excitation LEDs guarantees for up to 13 different fluorescent analysis combinations compatibility, Countstar® Rigel extends the border of limits.
The patented fixed focus and the single cell analyzing software avoids manual errors in the cell analysis to ensure the highest accuracy of fluorescent signal detection and reproducibility of results feasible.
A sensitive industrial touchscreen integrated with an intuitive graphical software interface and ready-to-use application templates combined open-to-use reagent kit make it easy for both novice and experienced researchers to operate Countstar Rigel for the analysis of cell experiments.
The optional FCS Express software (from De Novo ), customizable applications and changeable fluorescent combinations enable insightful cellular analysis for the biotech industry, hospitals and life sciences research.
Search result : 0 product found