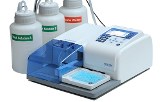 Microplate washer
The Microplate Washer is easy, convenient and versatile to use for washing microplate in ELISA assays. It efficiently removes liquid from wells. Low residual volumes eliminate high background signal to ensure reliable assay results. Washing performance can be optimized by adjusting wash parameters, such as wash cycles, soaking time, shaking speed, dispense and aspiration height and speed.
Features
1.
Low residual liquid, each well ≤ 0.5 μl
2.
Compatible for microplates: flat, U, V, C bottom
3.
4.3 inch color LCD display, easy to operate
4.
Washing head position can accurate to 0.1 mm
5.
Wash parameters can be set to make sure of the best washing effect
6.
Support external U-disk, for program exporting
7.
100 programs can be saved
8.
Uniform volume mark makes it easy to measure the liquid
9.
Automatic alarm for full liquid 10. Strainer in the pipeline and automatic washing functions avoid the liquid blocking the pipeline
Search result : 5 product found