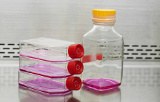 Other culture flasks
We understand that finding the right culture flask and Erlenmeyr flasks can be crucial to the success of your experiments. That's why we offer a comprehensive selection of different culture flasks, as well as other essential laboratory equipment and supplies. Our commitment to quality means that all of our products meet rigorous standards for performance and reliability.
Our culture flasks and Erlenmeyer flasks provide the precise and consistent environment you need to achieve your research goals.
Browse our selection and find the perfect one for your research needs.
Search result : 14 product found