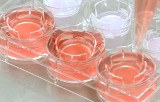 Plastic systems for 3D cell culture
The 3-dimensional cell culture (3D culture) recreates the micro-environment conditions encountered in the body. The goal of 3D culture is to provide cells with an environment to form structures called spheroids in which cells can interact with each other. There are many different media for 3D culture including sponges (based on polymers or proteins of the extracellular matrix), gels (synthetic or natural) or plastic systems (inserts or film with a micro-structure).
The main advantage of plastic systems for 3D cell culture is batch-to-batch consistency and thus reproducibility of results. Indeed, unlike the protein-based 3D culture support such as collagen, the plastic supports have a uniformity inherent to the synthetic materials used.
We offer 2 types of plastic supports for 3D culture, both based on patented innovative technologies: Alvetex culture inserts and NanoCulture nano-structure plates.