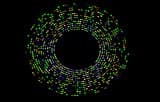 SARS-CoV-2 - cDNA clones for research and development
SARS-CoV-2, the cause of the COVID-19 epidemic currently affecting all countries in the world, belongs to the genus of betacoronaviruses, which also includes the SARS CoV (2003) and the MERS CoV (2012). Like all other coronaviruses, the SARS-CoV-2 genome (2019-nCoV) codes for the spike protein, envelope protein, membrane protein and nucleocapsid protein. These proteins play a role in the immune response that occurs when the virus comes into contact with a host.
The sequence of the different genes coding for these proteins is known and it is therefore possible to obtain cDNA clones. cDNA clones are the basic material for many studies on gene analysis and protein function. The creation of cDNA clones from biological material requires a lot of time, work and cost.
Therefore, we offer a collection of SARS-CoV-2 cDNA clones to allow you to quickly obtain experimental results.
Search result : 88 product found