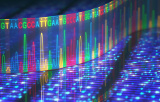 SARS-CoV-2 - NGS for research and development
The novel coronavirus 2019 (SARS-CoV-2) has emerged quickly and is likely to evolve further as infections spread. Next Generation Sequencing (NGS) is the ideal tool for monitoring the virus and identifying any new mutation events.
We offer a complete kit for amplicon based NGS Library preparation for the novel COVID19 virus and optimised for Illumina. Ideal for monitoring viral populations and mutation events. Targeting amplicon based sequencing makes for a fast, easy protocol and exceptional sensitivity when working with low viral loads.
The kit contains :
Reagents for reverse transcription of viral RNA
Primers for multiplex amplification of entire viral genome
High fidelity master mix for proof-read amplification
Index/adapters for 96 samples
Beads and reagents for Library clean up
Search result : 0 product found