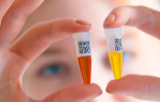 SARS-CoV-2 - RT-LAMP for research and development
The SARS-CoV-2 virus is responsible for coronavirus disease 2019 (COVID-19), which is associated with a wide range of symptoms (e.g., coughing, muscle pain, headache, sore throat). For some infected individuals, COVID-19 causes mild or no symptoms even though they are still contagious. For others, COVID-19 can lead to prolonged illness, hospitalization, and even death. The identification of infected individuals is paramount in stopping the spread of COVID-19. Viral RNA detection via RT-PCR requires specialized training, hours to complete, and advanced equipment.
With reverse transcription loopmediated isothermal amplification (RT-LAMP), it is now possible to detect the viral RNA in less than 1 hour with no need of specific equipment. The RT-LAMP is a method which amplifies SARS-CoV-2 RNA faster than traditional RT-PCR with a colorimetric endpoint readout. The kits are easy to use, the results are obtained quickly and are easy to read. The only equipment required is an incubator.
Search result : 0 product found