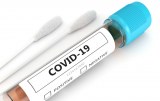 SARS-CoV-2 - RT-qPCR for research and development
The COVID-19 RT-qPCR assay is based on the detection of SARS-CoV-2 RNA using a real-time RT-PCR technique with probes and primers specific to certain SARS-CoV-2 genes.

The coronavirus real-time RT-PCR nucleic acid detection kits (SARS-CoV-2) are based on the PCR method which uses a fluorescent probe and a specific primer to detect two or three specific regions within the genome of the new coronavirus (SARS-CoV-2). Typically, these are the Orf1ab, N and E genes. This detection can be done separately for each gene or in multiplex (all genes in the same reaction).

The QuantiVirus Real-Time PCR Coronavirus Test kit is part of the list of official kits for the diagnosis of CoV-2-SARS in France.
Search result : 49 product found
Refine your search :
kit

23

pcr products

18

Protein/peptide

8