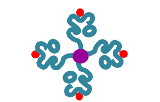 SARS-CoV-2 - Tetramer kits for research and development
QuickSwitch Custom Tetramer Kits : Rapid, high-quality creation of custom class I tetramers is now a reality !
Create new specificity tetramers in just a few hours with QuickSwitchTM, a proprietary technology for exchanging peptides on an MHC tetramer.
The QuickSwitchTM Quant Tetramer Kit can quantify the exchange with the new peptide for epitope discovery and for verification that the resulting new specificity tetramer is suitable for cell staining. This kit is optimized for 10 peptides exchanges and multiple tests per resulting tetramer.
Peptide exchange, quantification, cell staining, and flow cytometry analysis can all be performed in one day !
Features :
Create custom tetramers in 4 hours
Quantify peptide exchange
No UV or tetramerization required
Select ready-to-use tetramer in PE, APC or BV421
Identify antigen-specific T Cells to your targets of interest

Search result : 42 product found
Refine your search :
Protein/peptide

30

kit

12