Stemolecule™ SB431542
04-0010 / 04-0010-05 / 04-0010-10
Brand: Stemolecule
SB421542 is an inhibitor of the transforming growth factor-beta 1 (TGF-?1) activin receptor-like kinases (ALKs).
CAS Number:
301836-41-9 (anhydrous)
Alternate Name(s):
4-[4-(1,3-benzodioxol-5-yl)-5-pyridin-2-yl-1

H

-imidazol-2-yl]benzamide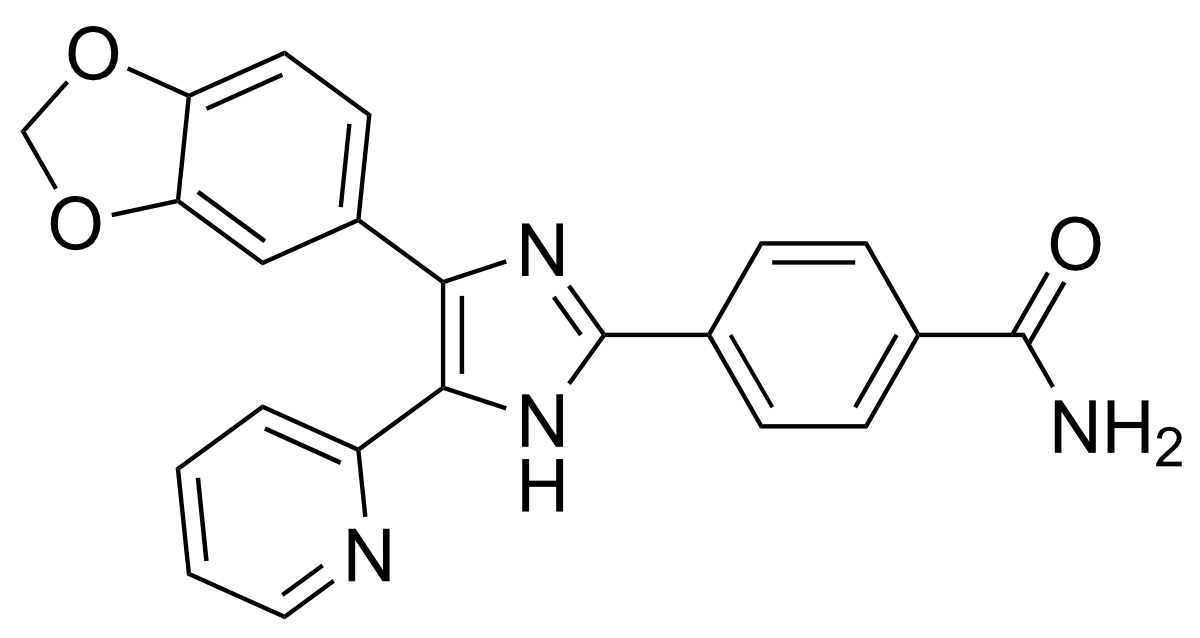 >
Inquire about this product
Note: shown do not include shipping and handling charges.
Product Information
1,2. SB431542 stimulates proliferation, differentiation, and sheet formation of endothelial cells derived from embryonic stem cells
3
.
---

Stemgent and the Stemolecule brand name are trademarks of REPROCELL Inc., Japan.
Catalog Number: 04-0010-base
Size:
10 mg (Cat. No. 04-0010-10)
5 mg (Cat. No. 04-0010)
5 mg at 10 mM in DMSO (04-0010-05)
Alternate Name(s): 4-[4-(1,3-benzodioxol-5-yl)-5-pyridin-2-yl-1H-imidazol-2-yl]benzamide
Chemical Formula: C22H16N4O3
Molecular Weight: 384.4
CAS Number: 301836-41-9 (anhydrous)
Purity: Greater than 98 % by HPLC analysis
Formulation: White solid
Solubility: Reconstitute in DMSO to the desired concentration. For reconstitution instructions please reference product specifications sheet.
Storage and Stability: Store powder at 4 °C protected from light. Information about the stability of Stemolecules in solution is largely not available. As a general guideline, we recommend that stock solution be freshly made and stored in aliquots at −20 °C, protected from light. The effect of storage of stock solutions should be verified for each application.
Quality Control: The purity of SB431542 was determined by HPLC analysis. The accurate mass was determined by mass spectrometry. Cellular toxicity of SB431542 was tested on mouse embryonic stem cells.
Matsuyama, S., Iwadate, M., Kondo, M., Saitoh, M., Hanyu, A., Shimizu, K., Aburatani, H., Mishima, H.K., Imamura, T., Miyazono, K., Miyazawa, K. SB-431542 and Gleevec inhibit transforming growth factor-β-induced proliferation of human osteosarcoma cells.
Cancer Res
63: 7791-7798 (2003).
Laping, N.J., Grygielko, E., Mathur, A., Butter, S., Bomberger, J., Tweed, C., Martin, W., Fornwald, J., Lehr, R., Harling, J., Gaster, L., Callahan, J.F., and Olson, B.A. Inhibition of transforming growth factor (TGF)-β1-induced extracellular matrix with a novel inhibitor of the TGF-β type I receptor kinase activity: SB-431542.

Mol Pharmacol

62: 58-64 (2002).
Inman, G.J., Nicolás, F.J., Callahan, J.F., Harling, J.D., Gaster, L.M., Reith, A.D., Laping, N.J., and Hill, C.S. SB-431542 is a potent and specific inhibitor of transforming growth factor-β superfamily type I activin receptor-like kinase (ALK) receptors ALK4, ALK5, and ALK7.

Mol Pharmacol 62: 65-74 (2002).
Watabe, T., Nishihara, A., Mishima, K., Yamashita, J., Shimizu, K., Miyazawa, K., Nishikawa, S., and Miyazono, K. TGFβ receptor kinase inhibitor enhances growth and integrity of embryonic stem cell-derived endothelial cells.

J Cell Biol 163: 1303-1311 (2003).
Additional Publications
Mazza NC; Shuck SC; Lin J: Moxley AM; Termini J; Cookson MR; Wilson MA. DJ-1 is not a deglycase and makes a modest contribution to cellular defense against methylglyoxal damage in neurons. J Neurochem 162:245 (2022).
Mok RSF. Morphology and Connectivity Impairments in Rett Syndrome Human Stem Cell-Derived Neurons.

Ph. D. Thesis, Univ of Toronto

: (2020).
EMBO Mol Med. Pharmacological reversal of synaptic and network pathology in human MECP2‐KO neurons and cortical organoids. e12523: (2020).
Mou Y; Dong Y; Chen Z; Denton KR; Duff MO; Blackstone C; Zhang S-C; Li X-J. Impaired lipid metabolism in astrocytes underlies degeneration of cortical projection neurons in hereditary spastic paraplegia.

Acto Neuropathologica Commun

8:214 (2020).
Choi SY; Lee J-H; Chung A-Y; Jo Y; Shin J-h; Park H-C; Kim H; Lopez-Gonzalez R; Ryu JR; Sun W. Prevention of mitochondrial impairment by inhibition of protein phosphatase 1 activity in amyotrophic lateral sclerosis.

Cell Death Disease

11:888 (2020).
Sun X-J; Li Ming-Xing; Gong C-Z; Chen J; Nasb M; Shah ZA; Rehan M; Li Y-J; Chen C. Temporal expression profiles of lncRNA and mRNA in human embryonic stem cell-derived motor neurons during differentiation.

Peer J

://doi.org/10.7717/peerj.10075 (2020).
Barbar L; Rusielewica T; Zimmer M; Kalpana K; Fossati V. Isolation of Human CD49f+ Astrocytes and

In Vitro

iPSC-Based Neurotoxicity Assays.

STAR Protocols

:doi.org/10.1016/j.xpro.2020.100172 (2020).
Sato T; Higashioka K; Kakurai H; Yamamoto T; Goshima N; Ueno M; Sotozono C. Core Transcription Factors Promote Induction of PAX3-Positive Skeletal Muscle Stem Cells.

Stem Cell Rep

13:352-365 (2019).
Zhu Z; Mesci P Bernatchez JA Gomple RC; Wang X; Schafer ST; Wettersten HI; Beck S; Clarck AE; Wu Q; Prager BC; Kim LJY; Dhanwani R; Sharma S; Garancher A: WEis SM; Mack SC; Negraes PD; Trujillo CA; Penalva LO; Feng J; Lan Z; Zhang R; Wessel AW; Dhawan S; Diamond MS; Chen CC; Wechsler-Reya RJ; Gage FH; Hu H; Siqueira-Neto JL; Muotri AR; Gheresh DA; Rich JN. Zika Virus Targets Glioblastoma Stem Cells through a SOX2-Integrin αvβ5

Axis.

Cell Stem Cell

26:187-204.E10 (2020).
Trus I; Berube N; Jiang P; Rak J; Gerdts V; Karniychuk U. Zika Virus with Increased CpG Dinucleotide Frequencies Shows Oncolytic Activity in Glioblastoma Stem Cells.

Viruses

12:579 (2020).
Shafa M; Walsh T; Panchalingam KM; Richardson T; Menendez L; Tian X; Babu SS; Dadgar S; Beller J; Yang F; Baghbaderani BA. Long-Term Stability and Differentiation Potential of Cryopreserved cGMP-Compliant Human Induced Pluripotent Stem Cells.

Int J Molecular Sci

21:108 (2020).