IIM Meeting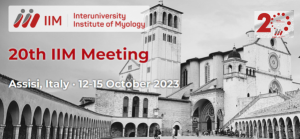 Join us at the

IMM meeting
date: Thu,12, Oct 2023-Sun,15 Oct 2023
This event will bring together scientists from across the world and will offer an invaluable opportunity to discuss scientific issues in the field of Myology. It aims to create an event in which scientists, clinicians and patient representatives have the opportunity to listen to the latest discoveries in the field, share results and ideas, and initiate new collaborations. Join us and meet scientists whose outstanding studies are defining the state of the art in the muscle field!
The meeting is open to all researchers from Italy and abroad, and will include a full range of academic sessions, plenary lectures, poster sessions, and social/cultural events. Four keynote lectures from internationally renowned speakers are scheduled, and we will have talks from three delegates of the Société Française de Myologie: Bruno Allard, Vincent Gache, and Capucine Trollet. The vast majority of the talks will be selected based on the abstracts received; all other participants will have the opportunity to showcase their work through poster presentations.
Presentation of unpublished results is welcome and always represents an additional value in the IIM meetings; only abstracts with authors approval will be published in the Abstract book or as proceedings in a scientific journal.
Participation from young trainees is especially favored.
The IIM meeting 2023 will be a special event since this year represents the 20th anniversary of the IIM activity and meeting. To celebrate this anniversary, this website, a new logo, and a commemorative logo have been developed. Moreover, a special educational convention on Causes and Mechanisms of Muscle Atrophy will be held at the University of Perugia with the participation of Paola Costelli, Sestina Falcone, Stefania Fulle, and Marco Sandri as speakers, and the Italian astronaut Paolo Nespoli as a very special guest.
The Preliminary Program of the IIM Meeting is shown here. More information will be available soon through the event website.