Northern Structural Biology Meeting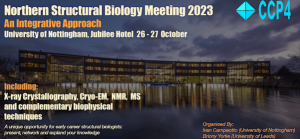 Join Us at the CCP4 - Northern Structural Biology Meeting 2023!
Date and Time :

Thu, 26 Oct 2023 09:00 - Fri, 27 Oct 2023 17:00 BST
Location :

The Jubilee Hotel & Conferences Triumph Road Lenton Nottingham NG7 2TU United Kingdom
The main meeting will be held in the Raleigh Room and exhibitors' stands and catering provided in the East Atrium.
We are excited to announce that CliniSciences Group will be participating in the CCP4 - Northern Structural Biology Meeting
This event presents a unique opportunity for early career researchers, students, and professionals in the field of structural biology to come together and exchange knowledge, ideas, and experiences. Here's why you should consider attending :
Immerse yourself in a stimulating program featuring talks from leading experts and early career researchers. Gain insights into the latest advancements in structural biology, including techniques like X-ray Crystallography, Neutron Diffraction, SAXS, Cryo-Electron Microscopy, NMR, MS, and more.
Professor Jim Naismith, a distinguished figure in structural biology, will deliver the keynote lecture. His expertise as Director of the Rosalind Franklin Institute and Professor of Structural Biology at the University of Oxford will provide invaluable insights.
for more information, please visit the Northern Structural Biology Meeting website