Microspheres, Beads and Particles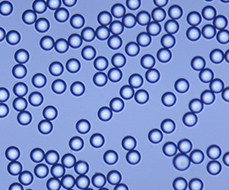 The most comprehensive range of particle solutions !
The Source for organic, inorganic, biodegradable, magnetic, fluorescent, dyed and specific antibody and general protein coated particles in diameters spanning the range of 40nm to 10mm.
A comprehensive range of standards for analytical instruments such as:
Cell analyzers, Particle sizers, Fluorescence microscopes.

The line of BioMag® products include superparamagnetic particles and kits that offer superior performance in Isolation and purification of nucleic acids, antibodies and other proteins.

Specific cell populations may be enriched or depleted using our range of BioMag® anti-CD marker particles.
Our NIST Traceable Particle Size Standards feature low coefficients of variation, which make these particles suitable for use in a wide range of applications including: Instrument calibration, Particulate testing, Filter challenge, Clean room testing.

The catalog also includes SureCount Particle Count Standards, ViaCheck Viability and Concentration Controls, and a broad range of fluorescent and antibody capture beads for Flow cytometric and Imaging applications.
Applications / Microsphères
fluorescent
dyed
undyed
magnetic
polymer or silica
standard
functionalized
traceable
Flow cytometry
x
x
x
Lateral flow
x
x
Turbidimetric
x
Isolation, Separation
Purification, immobilization
x
x
x
x
Fluorescent microscopy
x
Instrument calibration
x
x
Diagnostic
x
x
Coupling, coating
Labelling, ligand
x
x
x
x
Immunoassay
x
x
x
DNA based assays
x
Molecular assays
x
Imaging
x
Dipstick
x
Latex Agglutination Test
x