PureStain Mouse-on-Mouse Kits for IHC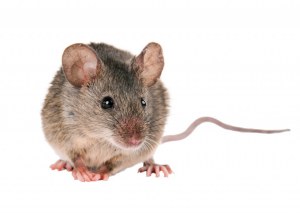 Detect Mouse Antibody on Mouse Tissue
Polymer based conjugation, biotin free

Improved formula for best sensitivity and clean background

Total blocking time : 35 min

Tested on mouse and rat tissue

Antigen detection with primary antibody of the same species as the test tissue yields high background when indirect detection method is used.
This severely limits the use of murine monoclonal antibody on mouse tissues.
The PureStain Mouse-on-Mouse HRP and AP kits are composed of a polymer detection system designed for screening antigens in mouse tissue sections using mouse primary antibodies with no background.
The PureStain Mouse-on-Mouse kits contain a two-step block that reacting with endogenous mouse IgG in mouse tissue.
The PureStain Mouse-on-Mouse kits are biotin-free which eliminates the need for blocking endogenous biotin.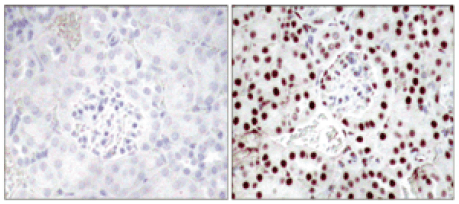 Mouse anti-nucleophosmin/B23 was used to stain paraffin embedded mouse kidney using PureStain Mouse-on-Mouse kit.
Picture on the left shows no staining with negative control antibody. Picture on the right shows strong positive nuclear stain when stained with mouse anti-nucleophosmin
PureStain MOM Kits
Product code
Primary antibody
Recommanded tissue
Polymer HRP or AP
Chromogen
HRP for DAB
Mouse
Mouse, Rat
110 ml / 60 ml
Not included
HRP with DAB
Mouse
Mouse, Rat
60 ml / 18 ml / 6 ml
DAB
HRP for AEC
Mouse
Mouse, Rat
110 ml
Not included
HRP with AEC
Mouse
Mouse, Rat
18 ml / 6 ml
AEC
AP with Fast Red
Mouse
Mouse, Rat
18 ml / 6 ml
Fast Red
AP with Permanent Red
Mouse
Mouse, Rat
18 ml / 6 ml
Permanent Red
Blocking solutions
Mouse
Mouse, Rat
110 ml / 18 ml / 6 ml
Not included