Triple and Double IHC Staining kits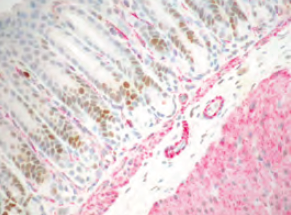 PolyStain TS and PolyStain DS kits : complete solution for triple and double stain

Biotin free

No overlap staining

Detect mouse or rat antibody on mouse tissue

Optimized simple protocol : 5 hours triple stain without HIER and 6 hours with HIER

Choice of color combinations

Permenent mount with coverslip

Neo Biotech PolyStain DS (Double Stain) and PolyStain TS (Triple Stain) kits are designed for immunohistochemistry (IHC) staining to detect 2 or 3 target proteins on one tissue slide.
Information obtained from multiple IHC staining not only reduces turn around time compared to single IHC staining, but allows researchers to review the co-expression of targets on the same tissue.
PolyStain DS kits and PolyStain TS kits use non-biotin based polymer HRP and AP conjugated secondary antibodies to detect primary antibodies made from mouse, rabbit, goat and rat host species. Our blocking technology avoids cross detection when detecting 2 or more primary antibodies. PolyStain DS and TS kits enable users to perform IHC staining in color combinaitions of red, brown, black, blue or green with hematoxylin counterstain.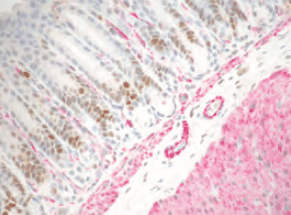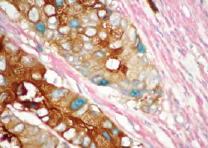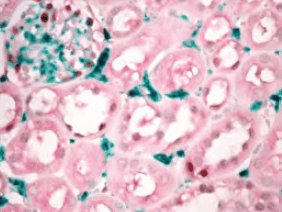 Double stain on mouse tissue
Rabbit anti-desmin (red), mouse anti-PCNA (brown) stained by PolyStain DS Kit (
NB-23-00094
)
Triple stain on human tissue
Rabbit anti-CEA (brown), mouse anti-smooth muscle actin (red) and mouse anti-PCNA (Emerald) stain on human colon cancer by PolyStain TS kit (NB-23-00128)
Triple stain on mouse tissue
Mouse anti-PCNA (brown), rat anti-GRP94 (red) and rabbit anti-desmin (emerald) on mouse kidney PolyStain TS kit (NB-23-00138)
Find PolyStain DS kits and Polystain TS kits on our website.