Auto-Western Service
Leave the burden of validating antibodies and optimizing conditions to us.
Western Blotting Just Got Easier

Had enough of running gels and transfers?
Hate the thought of buying and testing another antibody?
Have a lot of samples&very little time?
Have < 20 µl sample?
Leave the burden of validating antibodies and optimizing conditions to us.
RayBiotech's Auto-Western Service marries state-of-the-art capillary immunoblotting system with vast pre-validated antibody library. The high throughput system can achieve ng to pg sensitivity with only 5 µL of starting material.
Just send us your samples, select your desired antibody from
our pre-validated list
, and we'll do the rest. You can even send us your own antibody.
Service Features
Low sample volume required (5 µl)
As low as 0.2 µg/µl protein
Ng to pg sensitivity
Full analysis report included (see example below)
Standard curve may be included for full quantification (additional charges apply)
Representative Data

Results are presented in electropherogram format (A) with each peak displayed numerically (B). Electropherogram peaks are then digitally rendered as a "virtual blot" (C).

A.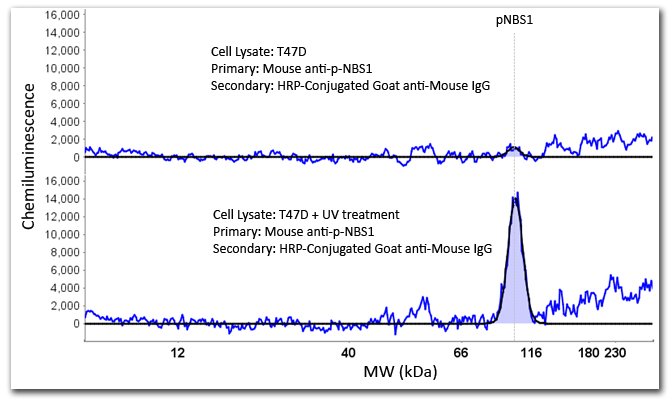 C.

B.

How It Works

Western blot service uses a highly accurate and precise capillary immunoassay method. Samples and reagents are loaded into an assay plate and placed in our western machine. As little as 40 nL of sample is loaded into the capillary automatically and separated by size as they migrate through a stacking and separation matrix. The separated proteins are then immobilized to the capillary wall via a proprietary, photoactivated capture chemistry. Target proteins are identified using a primary antibody and immunoprobed using an HRP-conjugated secondary antibody and chemiluminescent substrate. The resulting chemiluminescent signal is detected and quantitated.